Capturing the atmosphere of Paris' historic café…
LES DEUX MAGOTS, the long-established café in Paris, was loved by many artists, including Verlaine, Rimbaud, Mallarmé, Picasso, and Hemingway, and has been highly regarded by Parisians for more than a century since it first opened at the center of Saint Germain des Prés in 1884. LES DEUX MAGOTS Paris at Bunkamura is the first collaborative café established outside of France.
◆Official website of LES DEUX MAGOTS
Enjoy your time at LES DEUX MAGOTS Paris…
Relax in the sophisticated Parisian café style of the terrace while enjoying the different seasons. You can also spend luxurious time with authentic food in the relaxed atmosphere of the café. If you prefer to enjoy conversation and comfortable surroundings, where time passes you by. Enjoy your time at LES DEUX MAGOTS Paris in a range of settings.
---- MENU ----
◆LUNCH TIME 11:30 - 14:30
< PRIX FIXE LUNCH MENU >
¥2,500 - with bread and coffee or tea
STARTERS
・Assorted Appetizers
・Soup of the day
MAIN DISH Choice of One
-Salmon mi-cuit with potatoes and anchovy sauce
-Roasted duck with honey and citrus sauce
CAFE
・Cofee or Tea


< A LA CART > with coffee or tea
・Tartine ¥1,450
・Omelette with Bread ¥1,450

・DEUX MAGOTS salada with Bread ¥1,500
・Pasta of the day with Bread ¥1,700
・Steak and French Fries with Bread ¥2,600
----------------------------------------------------
< SIDES > Additional order for Lunch menus
☆add ¥500
Assorted Appetizers
Soup of the day
☆add ¥600
Beer / A glass of wine (red or white)
☆add ¥1,100
Champagne
----------------------------------------------------

◆CAFE TIME 14:30 - 18:00
< AFTERNOON TEA SET >
¥3,000 per person. Two orders minimum.
Coffee and Tea are Free refills for 90 min.

< Tea Selection >
・Coffee
・Chamomile ・Earl Grey
・Darjeeling ・Jasmine
・Sweet Red (Hibiscus, Rose Hip, Shiso, Stevia)
・Black Ginger (Chicory, Ginger, Senna Obtusifolia, Brown Rice)

< DESSERT >
add ¥450 Coffee or Tea is available.
Tarte Tatin ¥980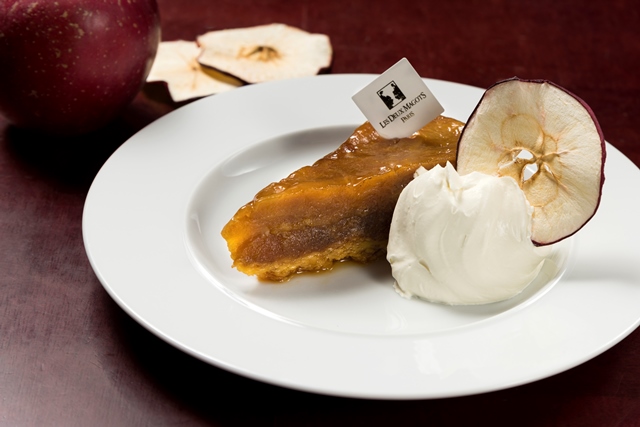 ・Creme Brulee with Fruits ¥980
・Assorted Ice cream and
      Seasonal Sherbet ¥980
・Cake of the day ¥800

◆PRE and POST THEATRE MENU 16:30 - 18:00
< PRIX FIXE THEATRE MENU ¥4,000 >
Show the ticket stub below and get 500yen discount.
■Orchard Hall ■Theatre Cocoon ■The Museum ■Le Cinema

Starter
Assorted Appetizers with bread
MAIN DISH Choice of One
- Salmon mi-cuit with potatoes and anchovy sauce
-Roasted duck with honey and citrus sauce
CAFE
Cofee or Tea 


DRINK  Choice of One
Sparkling Wine / Draft Beer / White Wine / Red Wine /
Orange Juice / Grapefruit Juice
◆DINNER TIME
18:00 - 22:30(Last order at 21:30)
Sun. & Holidays 18:00 - 21:30 (Last order at 20:30)
< PRIX FIXE DINNER MENU >
¥5,000 - with bread and coffee or tea
STARTER
Assorted 5 kinds of Appetizers
PASTA
Pasta of the day
MAIN DISH Choice of One
-Salmon mi-cuit with potatoes and anchovy sauce
-Roasted duck with honey and citrus sauce
- Bouillbaisse (Upgrade add ¥500)
- Steak and French Fries (Upgrade add ¥500)
- Braised Beef Cheeks in Red Wine (Upgrade add ¥800)
- Today's recommentdation (Ask upgrade add)
DESSERT
Dessert of the day
< PRIX FIXE DINNER MENU >
¥6,000 - with bread and coffee or tea
STARTER
Assorted 5 kinds of Appetizers
PASTA
Pasta of the day
FISH
Salmon mi-cuit with potatoes and anchovy sauce
MEAT Choice of One
- Chicken and mushroom fricassee
- Roasted duck with honey and citrus sauce
- Steak and French Fries (Upgrade add ¥500)
- Braised Beef Cheeks in Red Wine (Upgrade add ¥800)
- Today's recommentdation (Ask upgrade add)
DESSERT
Dessert of the day